Department of Computer and Information Sciences
Professional Computer and Network Experts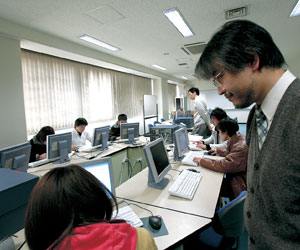 Contemporary society would not be conceivable without computers and related networks. Both are now indispensable in such wide-ranging fields as distribution, financing, and manufacturing. The students of the Department of Computer and Information Sciences must study and research broad-ranging fields to become "professional computer and network experts." In our lectures, exercises, experiments, and graduation research projects, which center on academic basics, the students acquire cutting-edge knowledge and the means of being in the forefront of ever-evolving information technology. Therefore, those who want to enroll in this department are expected to possess a disposition toward logical thought and expression.
Admission policy
Who has the temperament to think about things logically, and to express ideas appropriately. Especially, mathematics, English and Japanese abilities are emphasized.
Who intends to solve problems through the collecting of information and through acquiring greater knowledge. And who wants to cultivate an intellectual inquiring mind in order to complete undertakings.
Who aims to contribute to the field of computer and information sciences by actively participating internationally as an engineer in the rapidly advancing information society.
Diploma policy (Policy of conferment of a degree)
Students learn the skills and process of thinking that greatly contributes to the information society by acquiring the following:
Knowledge and skills in a major filed of information engineering and in computer and networks.
The ability to actually design, construct, and utilize information systems.
The ability to analyze matters logically and take the necessary action.
An ethical viewpoint and a sense of responsibility to use technology for the betterment of society.
The ability to communicate and express results in cooperation with others to achieve the desired goal.
The ability to collect information to solve problems, and to apply acquired knowledge to future prospects.
Course of Graduates (Academic Year of 2015)
| Num. of graduates | Num. of students who go on graduate schools | Num. of students who get a job | Num. of others |
| --- | --- | --- | --- |
| 65 | 28 | 36 | 1 |
| 19 | 0 | 19 | 0 |