Department of Urban and Civil Engineering
Ensuring Urban Safety, Environment, and Comfort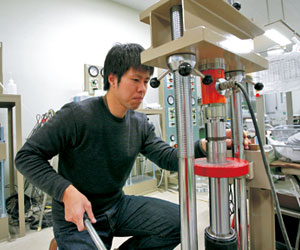 Why donNULLt you help recreate our environment? The Department of Urban and Civil Engineering, focused on creating and regenerating social and urban environments for a brighter future, is committed to fostering civil engineers with a wider sense of balance. It offers diverse subjects encompassing broad ranging fields of interest, as well as field studies, lectures by experts in the working world, and internships allowing students to master the latest issues, knowledge, and technologies. 4th year students will grapple with graduation research, working one-on-one with teachers while getting detailed supervision. Let's build cities and societies of the future together!
Admission policy
Who is interested in creating future cities harmonizing people and nature, has basic mathematics, physics, compositional, and thinking abilities, has a good understanding of nature and social phenomenon, and has the ability to communicate clearly.
Who aims to be a construction engineer with a strong sense of balance by following the educational curriculum based on international standards, and by participating in the study of a leading edge research project.
Who aims to be a warmhearted engineer who can meet the various needs in construction related fields by contributing towards forming and developing a sustainable society.
Diploma policy (Policy of conferment of a degree)
The Department of Urban and Civil Engineering sends out to society engineers who:
Have a solid foundation as engineers to meet the demands of the times, and who will be leaders in construction and urban environments.
Acquire the fundamentals of construction technology and related information technology, and have the know how to integrate various technical elements.
Have the desire, aim and understanding to help create a safe, healthy, and abundant society.
Working toward JABEE (Japan Accreditation Board of Engineering Education)
The Department of Urban and Civil Engineering was successfully recognized by JABEE in 2006. Details can be found here.
Course of Graduates (Academic Year of 2015)
| Num. of graduates | Num. of students who go on graduate schools | Num. of students who get a job | Num. of others |
| --- | --- | --- | --- |
| 53 | 24 | 28 | 1 |
| 26 | 2 | 24 | 0 |