Department of Media and Telecommunications Engineering
Comprehensive Learning Information and Telecommunications Technology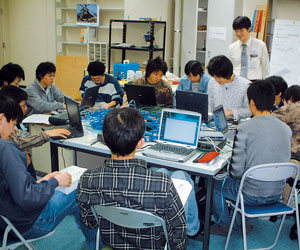 Today live programs like concerts or sports games are played on personal computers or on mobile phones. To realize such multimedia communication, both communication and information technologies are necessary. For instance, to play motion pictures on personal computers we need broadband communication lines, large capacity storage, and software. As consumers request multimedia communication with low cost and high quality, the demand for engineers whose strength lies in those technologies has become great. The mission of the Department of Media and Telecommunications Engineering is to help our students acquire comprehensive knowledge of those technologies and to help contribute technological innovation to those fields as engineers.
Admission policy
Who has an interest in computers, communication, imaging, and sound, with a basic knowledge of mathematics and science.
Who has acquired a broad knowledge of computers, communication, imaging, and sound, with a strong will to challenge ever higher technology.
Who aims at contributing to society by utilizing the knowledge, technology and way of thinking learned in college.
Diploma policy (Policy of conferment of a degree)
The current development of communications technology is remarkable. The Department of Media and Telecommunications Engineering trains and produces engineers who will benefit society by contributing to the rapid technological innovations within the broad communications field. We carefully select required subjects for students to take in their first three years that will enhance and establish their abilities. Then, in the fourth year, we cultivate their abilities to effectively utilize their acquired knowledge and skills through NULLreading and explaining a book in turnNULL, introducing an ultramodern academic essay, attending daily laboratory seminars, and presenting a graduation study. We judge the student's overall achievement according to the graduation thesis and graduation study presentation.
Course of Graduates (Academic Year of 2015)
| Num. of graduates | Num. of students who go on graduate schools | Num. of students who get a job | Num. of others |
| --- | --- | --- | --- |
| 40 | 21 | 19 | 0 |
| 15 | 0 | 15 | 0 |