Department of Mechanical Engineering
Creating Machinery Friendly to People and the Environment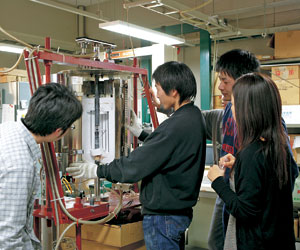 At the Department of Mechanical Engineering, students learn about technology to support manufacturing techniques, a typical example being industrial robots. Students study basic courses in the 1st year, In the 2nd and 3rd years, students study specialized subjects, cultivate application skills through exercise-style courses, and acquire tough-mindedness through experiment tests and exercises, prerequisite for engineers. In the 4th year, students engage in cutting-edge research through research programs for graduation. Over 40 percent of our college graduates go on to graduate school. Nearly 100 percent of our graduates are employed by well-known enterprises.
Admission policy
Who has a basic knowledge of mathematics and physics, a sense of purpose, and a strong eagerness to learn.
Who has great intellectual curiosity and can complete things without giving up.
Who, as a technologist of mechanical engineering, aims at creating new manufacturing technologies that bring into harmony people and the environment.
Diploma policy (Policy of conferment of a degree)
Has a good understanding and analyzing ability of mechanical engineering, and the confidence to create new contrivances.
Has the basic engineering knowledge and skills necessary to utilize applied, up-to-date specialized academic knowledge in mechanical engineering necessary for manufacturing.
Has the ability to express and explain information logically in Japanese and in English.
Has acquired an international point of view.
Working toward JABEE (Japan Accreditation Board of Engineering Education)
The Department of Mechanical Engineering was successfully recognized by JABEE in 2006. Details can be found here.
Course of Graduates (Academic Year of 2015)
| Num. of graduates | Num. of students who go on graduate schools | Num. of students who get a job | Num. of others |
| --- | --- | --- | --- |
| 98 | 60 | 36 | 2 |
| 43 | 1 | 42 | 0 |