Exchanges
International Exchange
The Faculty of Engineering enjoys strong ties with the University of Alabama at Birmingham in the U.S., Chungbuk National University in Korea, and XiNULLan Jiaotong University in China through an academic exchange agreement under which we accommodate their students and researchers, while dispatching our students to their schools. At the Faculty of Engineering, there are some 100 overseas students from China, Malaysia, Taiwan, and Korea attending our college every year.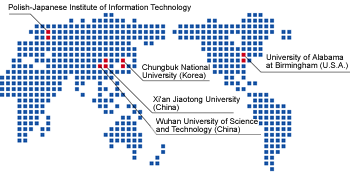 Exchange with the Local Community
The Evening Seminar is intended to promote exchange with the local community by inviting local researchers to give lectures and encouraging citizens to participate in the seminar. Moreover, special lectures by private citizens, and special introductory lectures for working people are also offered.

Given the close proximity of many research institutions and private enterprises engaged in advanced technologies, we conduct a multitude of joint research programs. We invite guest lecturers from Hitachi Research Institute of Hitachi, Ltd., Hitachi Chemical Co., Ltd., and the Japan Atomic Energy Agency. Under the affiliated graduate school system, these institutions provide our graduate engineering students with education and research opportunities.
.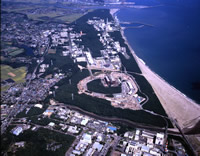 Tokai Research and Development Center,
Japan Atomic Energy Agency (courtesy JAEA)
Exchange with Educational Institutions
We are making efforts to provide a well-rounded education by concluding a credit transfer agreement with Ibaraki Christian University, the University of Tsukuba, Utsunomiya University, and Fukushima University in order to acquire credits in certain classes conducted at each university. Our exchange program involving the humanities and sciences has been evaluated as a breakthrough in providing a better education. Exchanges between high schools and technical colleges (in what is known as "catering-style lessons") are some of the activities being promoted by the College of Engineering to improve the educational impact in the local communities involved.