Education and Research Center for Disaster Prevention and Security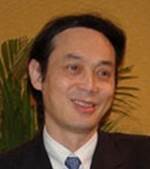 WU Zhishen, Center Director
In the 21st century, our global society faces challenges in natural disasters, environmental issues, resource and energy problems, etc. Under these circumstances, infrastructures in the fields of civil engineering, transport and energy, and viewpoints of developing in space and ocean need to consider following issues: 1) developing highly-resilience and long-life infrastructures, 2) aims to reduce environmental loads and realize the recycling-base society, 3) in harmony with nature. Smart infrastructures consist of smart-ability and intelligentization, is an outstanding idea that makes it possible to find solutions for above mentioned issues. Consequently increasingly importance has been attached to technologies of smart infrastructure. The following objectives missions are set to accomplish our goal:
[Mission 1] to establish fundamental technologies for smart infrastructure, disaster prevention and security system, which include smart sensors and actuators, next-generation networks, and other integrated knowledges such as electric, information, digital communication, materials and structures.
[Mission 2] to develop smart and intelligent elements and systems for various infrastructures, which comprise related processes such as design, production, maintenance, examination and diagnosis, reinforcements and rehabilitation for long-life purpose, disaster prevention/ reduction.
[Mission 3] to carryout concepts, objective and strategies of smart civil infrastructures and security system engineer in close collaborations with advanced international communities and institutions.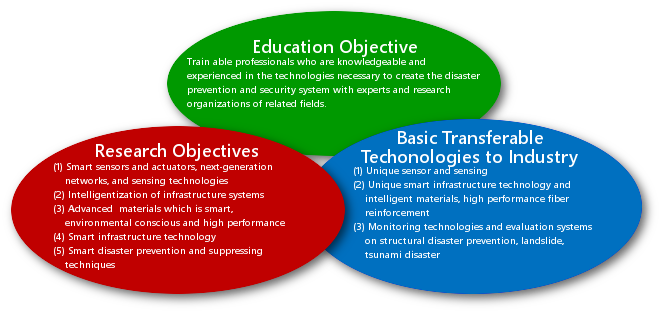 Center Members
Position
Name
Research field
Link
Director,
Professor
WU Zhishen
Computational fracture and failure mechanics, Fibres and FRP technologies, Advanced sensor technologies, Structural health monitoring and control, Maintenance and life-cycle engineering and Disaster prevention and mitigation
Lab
Deputy Director,
Professor
NOBUOKA Hisamichi
Prevention of coastal disasters, Integrated coastal zone management, Impact assessment of Storm surge disaster in climate change
Lab
Deputy Director,
Professor
HARADA Takao
Maintenance management engineering, Information processing system for civil engineering
Lab
Secretary-General,
Associate Professor
KURUMATANI Mao
Computational Mechanics and Applied Mechanics. Development of numerical evaluation methods for quasi-brittle materials and structures
Lab
Professor
IMAI Yoh
Opto-electronics, Terahertz engineering
Lab
Professor
TAKEDA Shigeki
Wireless communication system, Antenna system
Lab
Professor
TONOOKA Hideyuki
Remote Sensing, Image Processing, Spatial Information System
Lab
Professor
HABUCHI Hiromasa
Information and Communication Engineering
Lab
Professor
KOBAYASHI Kaoru
Soil Foundations Engineering, Geotechnical engineering, Geotechnical engineering
Lab
Professor
NUMAO Tatsuya
Creep, Drying Shrinkage and Durability of Concrete, Recycle of Industrial Wastes as Construction Material, Detection of Defects in Concrete by Infrared Thermography method
Lab
Professor
MINATO Atsushi
Applied Optics, Image Processing, Kansei Engineering
Lab
Contract Professor
SHIBUSAWA Susumu
Computer Networks, Algorithms, Distributed Systems
Associate Professor
YOKOTA Hirohisa
Optoelectronics, Fiber-optic communication system
Associate Professor
Narita Kazuhiko
Building structures
Associate Professor
HIRATA Terumitsu
Transportation Systems Engineering, Transport Policy, Air Transportation Systems and Airport Planning
Lab
Lecturer
ISHIDA Tomoyuki
Virtual Reality, Tele-Immersion, Augmented Reality, Sensitivity Informatics/Soft Computing, Natural Disaster Science, Disaster Management Support, Social System Engineering/Safety System, Web Application, Smartphone Application
Lab
Lecturer
Tsujimura Sohei
Architectural Environmental Engineering, Architectural Acoustics, Environmental
Guest
INOUE Ryousuke
Lab
Guest
HUANG Huang