Location
Located in the northern part of Ibaraki Prefecture, Hitachi is the leading industrial city in the prefecture. With five beautiful beaches facing the Pacific Ocean to the east and the gentle Abukuma mountain range to the west, Hitachi is richly endowed with nature and is well known as a major cherry blossom viewing spot. With streets extending from Hitachi Station lined with modern shops, the downtown area and suburbs are home to such prominent companies as Hitachi, Ltd., as well as public research institutions. The vista of the city that includes the Ibaraki University campus reflects the image of a high-tech city. The city's proximity to Tokyo, which makes a day-trip to Tokyo possible (90 minutes to Ueno Station by Super Hitachi Limited Express on the JR Joban Line), is also a major advantage.
In addition to educational and research facilities, including a library, the Center for Information Technology, and the College of Engineering, the Hitachi Campus has the Venture Business Laboratory and the Center for Cooperative R&D, allowing students to enjoy the privilege of feeling closer to research on most advanced technologies. Trees line all the facilities on campus,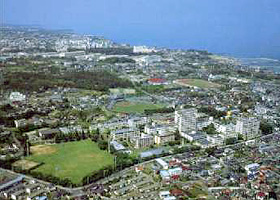 thus allowing those on campus to enjoy the delicately changing seasons.