Department of Intelligent Systems Engineering
Computer × Mechanism = Realizing "Dream Technology"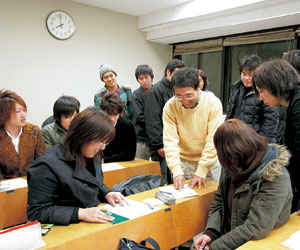 Most of the products around us incorporate the fusion of computers and mechanisms. We nurture technical experts who are familiar with mechatronics, design and manufacturing, computers, and human interface technologies that support intelligent systems, possess the expertise and capabilities to apply these technologies (e.g. robotics engineering), are acquainted with various issues and are able to proactively deal with them. The department offers program A (where students study during the day) and program B (mainly evening classes) that provides high-level learning opportunities for students with various social backgrounds, such as working students.
Admission policy
Who has the ability to express and tell one's thoughts appropriately in Japanese, along with basic mathematics, physics and English abilities. These abilities are the foundation for students to build on and to acquire the expert knowledge and communication ability after enrollment.
Who has an intellectual curiosity, free from the existing field. Also, who aims to absorb and creatively utilize the rapidly progressing technologies.
Who aims to greatly contribute to society as a well versed engineer and researcher in computers and mechanics.
In Course B , in addition to the above, we especially seek a student who can make effective use of one's time, and keep making strong efforts to achieve a desired purpose.
Diploma policy (Policy of conferment of a degree)
The fusing of data processing and mechanism technology is the fundamental industrial field of Japan, representing such areas as automobiles and robots. The field has an ever greater potential as new technologies are rapidly developed one after another.
In the Department of Intelligent Systems Engineering, we provide sufficient specialized knowledge concerning the fusion of computers and mechanisms, physics, and mathematics. Also, communication abilities in both Japanese and English are further developed. Furthermore, we train how to do effective research, and develop creative problem solutions.
To graduate from the Department of Intelligent Systems Engineering, you must acquire the required number of units of liberal arts and major subjects according to the department's designation. Some subjects will require group work such as experiments of intelligent systems engineering.
In the graduation study, you belong to a laboratory headed by members of the teaching staff. You have to summarize your graduation thesis from development, experiment, progression, and conclusion, including seminars and discussions with the teaching staff.
Course of Graduates (Academic Year of 2015)
| Course | Num. of graduates | Num. of students who go on graduate schools | Num. of students who get a job | Num. of others |
| --- | --- | --- | --- | --- |
| Course A | 44 | 25 | 17 | 2 |
| Course B | 38 | 9 | 28 | 1 |
| Course B | 26 | 1 | 25 | 0 |