Department of Materials Science and Engineering
Hands-on Skills (Monotsukuri) Supporting ICT and a Sustainable Society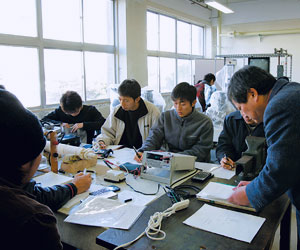 Materials science and engineering embody the scientific approach to creating and researching materials that support our sustainable society. It involves information and communication technology and social infrastructure considering the environment. The reason that computers and cellular phones have become more convenient is due to the significant contribution of materials engineering to the advances made in semiconductors. Materials science and engineering is an important key to developing near-future vehicles, such as eco-cars and next generation aircraft. The department offers the students a curriculum that includes environmental studies, nanotechnology, and computational materials science. The graduates of the department are playing important roles as materials technical experts and leaders in hands-on technology (Monotuskuri).
Admission policy
Who has an eagerness towards learning about materials science and engineering, has the necessary basic knowledge of mathematics and science required for learning, and has the ability to communicate with an awareness of the issues concerning society and the environment.
Who aims at acquiring a vast knowledge of materials science and engineering, and on acquiring an overall ability to take an active part internationally as a manufacturing engineer who studies and creates materials that support an environmentally friendly social infrastructure and information society.
Who aims at contributing towards a sustainable society as an educated technical expert of materials engineering.
Diploma policy (Policy of conferment of a degree)
We train capable people to have the applied abilities and qualifications (A) to (H) listed below. To assure that the engineers of materials science and engineering have excellent abilities and qualifications, we constantly check the records of graduation research implementation contents, research time, and discussions held with the teaching staff.
Furthermore, we conduct detailed evaluations of the graduation interim presentation, graduation study thesis, and graduation thesis final presentation to certify graduation.
(A) Ability to consider materials science and engineering in regards to people and the global environment.
(B) Ability to understand and to know technology ethics and social responsibility.
(C) Ability to apply the fundamental knowledge of mathematics, physics, and information processing that are necessary for engineers of material science and engineering.
(D) Ability to apply the attained knowledge of material sciences and engineering.
(E) Ability to apply the attained knowledge of technology to solve problems.
(F) Ability to examine, express, and present theoretical ideas in Japanese. Also, have basic English communication skills.
(G) Ability to plan independently and steadily.
(H) Ability to plan, promote, and summarize projects.
Course of Graduates (Academic Year of 2015)
Num. of graduates
Num. of students who go on graduate schools
Num. of students who get a job
Num. of others
36
24
12
0
37
3
33
1
(株)日立ハイテクノロジーズ、(株)神戸製作所、(株)NEC情報システムズ"
3